The transcription industry is a very important one for businesses of all kinds, providing a convenient and efficient way to take records and convert them into translated documents for distribution purposes. So, why are transcription services so important? And which industries can benefit most from the services of a transcription company in South Africa?
Why Transcription Services in South Africa Are Important?
Our cutting-edge transcription services take records in countless languages from across the entire African content, translate them and then convert them into an easily distributable document that everyone can understand. Transcription services in Johannesburg or Cape Town – as being the business hub cities in South Africa- offer transcription from and to both commonly spoken languages like Swahili and Afrikaans to niche local dialects with far fewer native speakers. The aim of transcription services is to make documents of all kinds comprehensible to readers not only all over the African continent but also all around the world.
Uses For Transcription Services in South Africa
There are numerous uses for a transcription company in South Africa, however, two of the most common uses are transcriptions of research, important documents, and interviews.
When somebody is being interviewed, their words may be important in a number of languages. A team of skilled transcription specialists will listen to the interview material, translate it and transcribe it flawlessly so even the tiniest nuances are captured perfectly.
Documents and research are often required for important applications. In such cases, a translation must be perfectly transcribed in order to obtain the necessary data for the application. When a team of skilled specialists works on the job, they can take even complex scientific and technical terms, translating and transcribing them in order to ensure that nothing is overlooked, no mistakes are made and that the data can be correctly understood.
Who Needs Transcription Services?
Although many industries benefit from the best transcription services Johannesburg can provide, there are some sectors that are most likely to require help from transcription companies in South Africa. These include:
· The legal sector
Law firms, attorneys, court reporters, paralegals and a range of other professionals working in the legal industry can benefit from transcription services. Court hearings, depositions, video and audio evidence, witness statements and legal documentation are frequently transcribed so they can be accessible to judges, juries and lawyers.
· The healthcare sector
Patient information will always be required in patient files and therefore transcribing notes, procedures and other related materials are vital.
· Academic purposes
Academicians and students alike benefit from transcription services. Class lectures, educational videos, research papers, source materials, interviews, and seminars can all be transcribed for distribution both online and offline.
· Market research
Recording accumulated market research materials like focus groups and interviews are vital for businesses. By transcribing these into different languages, it is possible to review the information provided to maximize the usefulness of the data.
· Business sector
Businesses of many kinds, and especially those with international operations can benefit from transcription for storing and cataloging information. Accurate recordings can be obtained from phone calls, meetings, and interviews for archiving purposes.
· Content strategists/marketers
People who work in content marketing and content strategy benefit from the use of transcription services to repurpose content for international websites to maximize impact and increase the target audience for a business.
Using AfroLingo's Transcription Services South Africa
AfroLingo has an impressive team of highly skilled translation and transcription experts on board who have a fluent and comprehensive understanding of a full breadth of African languages.
AfroLingo's Transcription Services in South Africa can help individuals and businesses convert audio and video files into text format. Here are some ways in which AfroLingo's Transcription Services can be helpful:
Accurate Transcription: Transcription is a time-consuming process that requires a high level of accuracy. AfroLingo's Transcription Services in South Africa provide accurate transcription services that ensure the integrity of the content.

Timely Delivery: AfroLingo's Transcription Services in South Africa are committed to delivering quality transcription services in a timely manner. The company has a team of experienced transcriptionists who work efficiently to deliver high-quality transcripts within the agreed-upon timeframe.

Multilingual Support: AfroLingo's Transcription Services in South Africa can transcribe audio and video files in a variety of languages. The company has a team of professional transcriptionists who are proficient in multiple languages, including English, French, Portuguese, and many others.

Customizable Transcription: AfroLingo's Transcription Services in South Africa can customize the transcription process to meet the specific needs of clients. The company can provide verbatim transcripts, edited transcripts, or summaries, depending on the client's requirements.

Cost-Effective: AfroLingo's Transcription Services in South Africa offer competitive pricing for its transcription services. The company provides a transparent pricing model, with no hidden fees, and ensures that clients receive value for their money.
AfroLingo's Transcription Services in South Africa offer accurate, timely, and customizable transcription services that cater to the needs of businesses and individuals. By using AfroLingo's Transcription Services, clients can save time and effort while ensuring the integrity and accuracy of their content.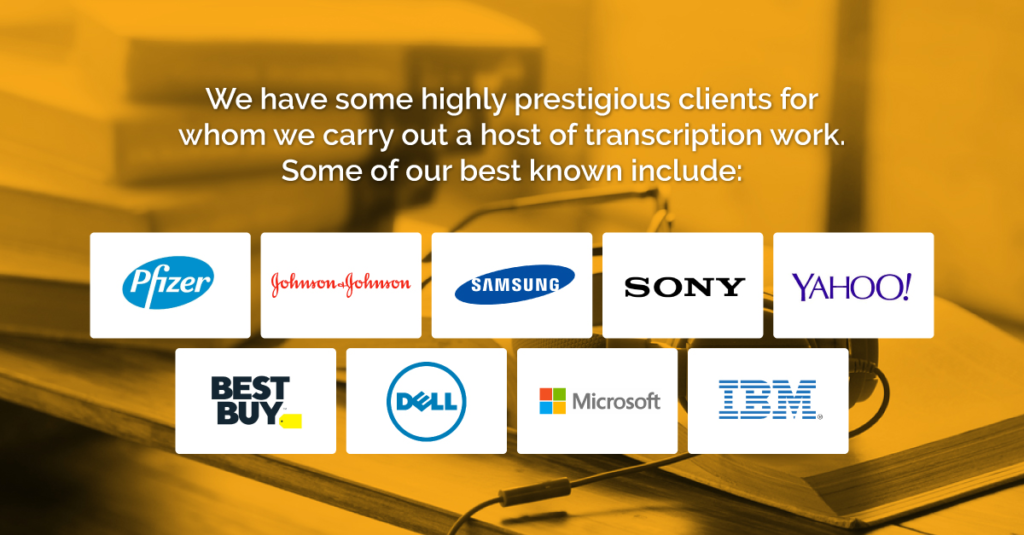 Thanks to our rapid turnarounds, our exceptional attention to detail and our excellent customer service, we have countless satisfied clients who have taken advantage of our excellent transcription services. Whether transcribing market research interviews, recordings of conversations and calls or repurposing video and audio content, AfroLingo is leading the way in the South African transcription services field.