South Africa is considered one of the largest information and communications technology (ICT) markets across the African continent. The software market size was estimated at $6.61billion in 2017 and expected to be $6.56 billion in 2019, according to The International Trade Administration (ITA). The country has a leading position in the mobile software, security software, and electronic banking services. Many international companies have subsidiaries or branches in South Africa, including IBM, Microsoft, Intel, Dell, and Novell. South Africa is therefore seen as a regional hub and a supply base for neighboring countries.
In such a diversified country like South Africa with 11 official languages, companies are required to talk to their target audiences in their own languages and in accordance with their own lifestyle and culture. This includes not only text, but also images, icons, symbols, colors, and currencies. This is what is called "Software Localization".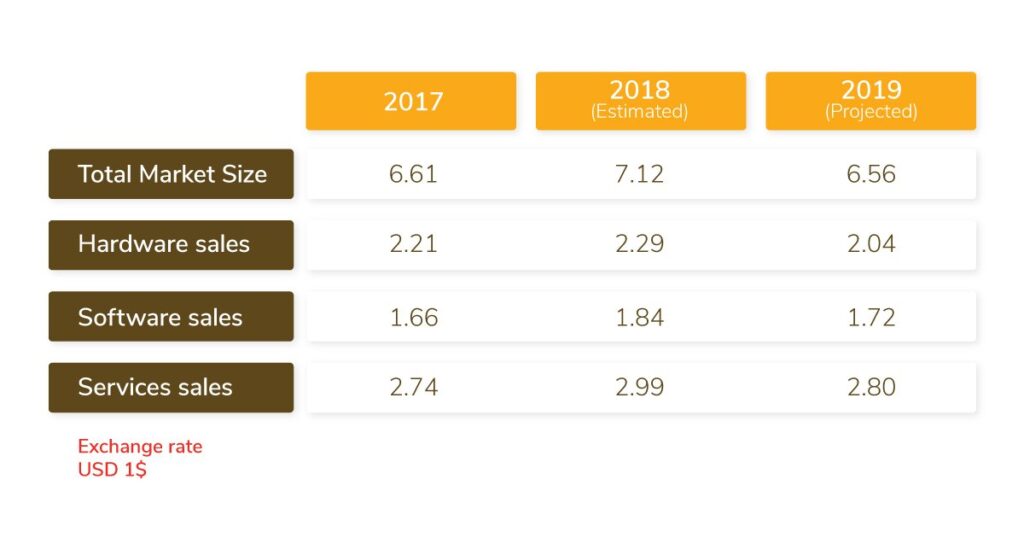 The Do's and Don'ts in Software Localization
So now, if your business is in the start phase of the software localization process, here are some pointers on the best do's and don'ts that will help you avoid developing problems and produce a better quality product for the global market.
Do's
Do Build a Library of Internationalized Objects.
The first stage of your software localization process is to build a library of internationalized objects. This library will include;
Address, number, date, and currency formats.

User interface

Search functionality

Multi-byte character support (for Asian languages)

RTL or LTR languages
Do Provide Enough Space for Text Expansion/Shrink
While designing your software, make sure that there is extra space for text expansion or shrinkage within 30-35%. For instance, the word "Lebensabschnittpartner" in German is translated into English as "lover". The opposite is considered when translating from Asian languages to English.
The most popular and intelligent character encoding, UTF-8 supports all language scripts and is used by all major hardware and software companies. It's useful while translating mainly Asian languages like Chinese, Korean and Japanese.
It can create code to manage all the standards of your target language, so this will avoid extra conversion tasks and the time consumed to discover and solve software bugs.
Testing time is very critical before launching your software, so you need to take all the needed time for this phase. You should check content mistakes, the functionality of buttons, contact forms, and other coding issues. A native tester is required in this stage to make sure that the software is localized in accordance with his/her locale.
Do Consult with a Localization Expert
Once you decide to localize software, hiring a language service provider who will be responsible for the localization process is inevitable. Your LSP will be an added value as they will provide you with insights, figures and the right way to approach your target audience. This will save time, effort, money, and double work.
Don'ts
Don't Insert Text into the Code
If you embed the text of your software into the code, this will lead to a delay in the localization process. So, you should add all content that users might see like error messages, thank you messages and titles into external resource files. These files will be sent to your localization partner to localize them according to each target region. This will make your localization process smoother and easier.
Don't Use Universal Icons
Text is not the only item in your localization process, as visuals have a localization phase too. Icons and symbols should be localized according to each region. Make sure not to use universal icons for all target audiences. For example, when using a god as a symbol, a certain culture might consider it meaning loyalty while others might consider it something dirty.
So you should make sure you know the culture you are hitting and to know what symbols are acceptable and what are unacceptable.
Don't Place Text with Images
Using images is essential while designing your software, but try to avoid using images that contain text that clogs the localization process. Using such images will need time to extract the text from the images, embed them into source files and then send them to your localization partner. So if we can exclude all these steps and only use images without text, this will actually smooth the process.
Localizing acronyms and abbreviations is not an easy task for any linguists due to the lack of consistency. An acronym in one language might be spelled differently in other languages,
while some languages don't have acronyms. So to avoid this hassle, try to avoid using acronyms .
Using code compact is familiar when designing an English software, but when localizing it to German or Chinese, these languages are longer and require extra space. So the string might overlap and an editing phase after localization will be essential.
Why AfroLingo is Your Ideal Software Localization Partner?
AfroLingo is equipped with a global team of internationalization, localization, and testing software engineers. Our main objective is to achieve customers' objective within the requested budget and time.
We have been known as a professional provider of software localization services over the past decade. Our area of expertise includes localizing hundreds of software programs in different industries including:
Medical software, engineering software, and business solutions.

GUI Localization

Mobile Applications Localization
So if you are ready to take your software to the next level and are looking for a partner for your software localization journey, AfroLingo is waiting for your call!
Read Blog Detail
In today's business world, software companies always look forward to expanding to new markets in order to increase their market share and profits. That's why they've started to give priority to localization in their plans.
Software localization (l10n) is the process of translating a software program into another language for a specific locale. The process involves adapting the content, images, user interface and visuals so they may fit a certain culture. It will help your company get more international exposure, reduce development costs, increase customer satisfaction and move far ahead of competitors.
However, the process of software localization is a little bit complicated, as it involves 2 phases:
internationalization and localization. Internationalization (i18n) is the process of localizing the interface of the software and extracting all the content that needs to be localized like text, currency, dates, times, and images, while localization is adapting the software to fit another language for a specific country.
The entire process of software localization

1- Preparation
We start this phase by extracting all the resources that need to be localized, like texts and images, from the software code l. There are many localization tools that we can use to extract the resources and it's based on the programming language of your software. Among these tools are Lingobit, Passolo and many more.
The extracted files are named Translation Database (TDB) and then we will know the word count of the whole project. Then comes the next step which is Translation.
2- Translation
After receiving the TDB, we upload the files into our translation management system (TMS) and the system will automatically extract all the files and make them ready for translation.
To maintain accuracy and consistency, your software translation company will start by creating a glossary of all the definitions and terms that are used.
That's why it's essential to select the best software translation partner that has the relevant experience of the subject matter to ensure that you will receive the best results.
3- Review
The translation process includes not only translation but also editing and proofreading. But not all software translation companies are applying this multi-tier process. Just make sure that your translation partner is reviewing any translated content. Your project manager or translation manager should go through and review the content also and ask your translation partner to apply any modifications.
4- Add Translated Files into Code Structure
After translating and reviewing the content, your next step is to import your translated files into your code structure and deploy them.
After translation, you might find that some languages need more or less space than the source language of the software, and this will make the software look crowded or unreadable. So you need to make sure that the layout of the software allows expanding or contracting.
5- Testing
And now is the time for testing. A pilot test will be done to test all the software functions such as translation, language compatibility, user interface, and installation/uninstallation.
Another important part of the pilot test is the defect management, which consists of 6 steps: discover, report, fix, report, verify, and close.
6- Client Review
After finalizing all the previous phases, you should review the final version of the software. You will review all the functions, features, and components to validate the quality of the software. If there are any modifications that you'd like to apply, you can send them over to your translation partner to work on them. This phase might continue for a while until you are 100% satisfied with the final product.
7- Final Delivery
During this phase, you will get the final version of the software that will be released and no more modifications are done.
8- Updates/Maintenance
Some agreements stipulate that if there are any updates related to the localization process, the translation partner will be responsible for them.
What we have mentioned above is mainly our best approach – at AfroLingo – for software localization and this is a result of more than 10 years' experience in the software industry. However, we always customize our process according to each project to achieve the client's objectives.
This approach is the result of many years of working with hundreds of companies with multiple challenges – from tight deadlines to low budgets.
We will be glad to answer all of your questions regarding the process of localizing your software.
One of our sales representatives will be dedicated to understanding your objectives and will guide you through the right path to achieve international growth.
Learn more about our software localization services and then contact us or request a quote to get started
Read Blog Detail