As the business world nowadays always puts the customer first, all companies are competing hard to attract customers. Localization is one of the strategies that is becoming very important, and it means adapting a product or a service to a specific locale, including its cultural, linguistic and physical aspects.
It's becoming a must for all types of businesses to localize their websites, products, marketing materials and campaigns. The main goal behind doing this is to reach out to your target audience and make them feel that you are talking to them directly in their own language.
The Virgin Country- A Promising Business Opportunity
A study conducted by the International Monetary Fund confirmed that between 2012 and 2015, the top 7 fastest growing economies and markets were in Africa. So we can say that Africa is an untapped business opportunity.
So if you are planning to start your business in a country like South Africa, you need to understand how linguistically diverse this country is and you should, consequently, pay great attention to Localization!
According to a research paper by Common Sense Advisory, we got the following results:
English is the first language for less than 5% of the Africans.

470 million Africans speak English as a second language

72.4% of African consumers say that they are likely to purchase a product if the product description is in their own language.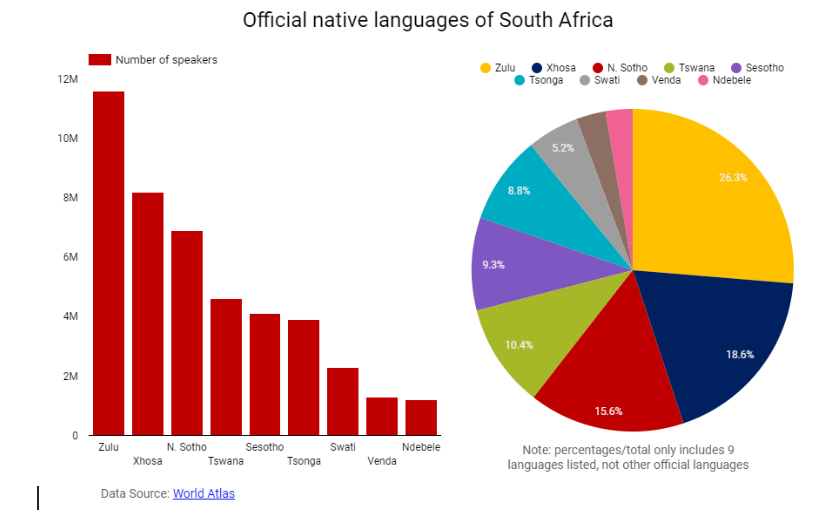 This means that the factor of language will be your key to connecting with people in a country like South Africa. The country's linguistic and cultural diversity will need an immense effort to understand them and communicate with them in the right language.
Companies like Vodacom and Nandos understand this concept pretty well and have applied it to their business plans, which had a great impact on their target audiences.
Let's provide you with the best practices of localization efforts in South Africa and how you can apply them to your business plans.
A Local Language Service Provider
Africa is not like Europe or the US, as most of the terms are not documented, and that's why you will need the help of a local translation company. Also, you can benefit from the local native linguists that are part of local translation companies' teams, which is a guarantee that your translation matches the local culture.
Make sure that your local translation company is following a clear and valid quality process. ISO Certification is one of the things that guarantee that your partner will stick to a high level of professionalism while translating. Wrong translation might affect your brand positioning and cause a catastrophic impact on your business.
"If you talk to a man in a language he understands, that goes to his head. If you talk to him in his language, that goes to his heart." Nelson Mandela
One of the most important things you should consider in the South African market is to customize your products to suit the culture and traditions of people. Therefore, you should understand very well how they think, their purchasing styles, and their preferences.
Whenever you are entering a new market like South Africa, you should start with small steps, not to invade all regions and cities, not to translate your website and materials into all languages. This will be considered a testing phase to know how the market will interact with your business. For example, Toshibaentered South Africa twenty years ago; it only translated its products into 3 languages and now they are translated into 24 different languages
So if you are planning to enter or expand your business in the South African market, why don't you give us a call for support?
AfroLingo is specialized in most of the African languages like Zulu, Swahili, Xhosa, Afrikaans and many more. We are capable of providing you with a huge network of native translators who will help you at every step of your localization journey. As one of the local translation and localization companies in South Africa, we truly understand that adjusting your website and your product to the local market is inevitable, so translation won't be enough! That's why we've equipped ourselves with the latest technology and the best expertise in the market to be capable of delivering the right message. We are not just a translation company. Our website localization services go beyond this, as we work on the below points while localizing your website:
Higher rank in the search engines.

More conversions.

Better return on investment (ROI).
Still thinking! Our advice to you is you must consider localization as part of hour short term strategy, and the sooner the better. You can drop us an email or contact us at (+27) 213002355 and one of your sales support will help you with the best to your business. We will be waiting for you!
Read Blog Detail
Are you planning for a big event, conference or a meeting and you have arranged everything for it? Booked the hall, seating, food catering, transportation, ticketing and everything. But, what will happen if you are hosting foreign people who don't speak your mother language? Did you manage to arrange interpreters for them? Did you rent the required equipment? 
Because specialization will guarantee you will get the best results, so it's better for you to outsource the translation and interpreting to a service provider. But how can you select interpretation services provider that you can trust? We will help by providing you with a list of questions that will help you filter all the options you got.
Here are the top 10 frequently asked questions for interpretation companies:
1) What is the difference between interpreting and translating?
The translation is written while interpretation is spoken. The translation is the conversion of a text from one language to another one. Interpretation is the conversion of oral or sign-language spoken into another language.   
2) What's the difference between Simultaneous and Consecutive Interpreting?
Simultaneous interpretation -known as real-time interpreting or conference interpretation- requires the interpreter to listen to one language and then interpret it in another language at once. Normally, it's used in multi-lingual conferences and meetings, where interpreters sit in a booth listening to the conversation on headphones and interpreting through microphones.
Consecutive interpretation is when there are 2 speakers, the interpreter will listen to the first one and translate what he has said to the second speaker then listen to the second speaker and translate his/her reply to the first speaker. Therefore, a lot of pauses are required for interpretation. Consecutive interpretation is mainly used at two language meetings and interviews.
3) Are there different types of interpretation services? 
Before looking for a company that will work on your project, you just need to know what are your requirements. There are different types of interpreting services and you might hire a company that is not offering the service that you exactly need. For example, you might need a sworn interpreter, so you have to make sure that your service provider is providing this type of interpretation.
However, here are the most common types of interpreting services:
Chuchotage or whisper interpretation:
It's considered simultaneous interpretation, but mainly used for business meetings, where an interpreter is sitting next to the person and interpreting quietly in hushed tones.
Telephone interpretation:
This type of interpretation is used by companies that have immediate needs for translation. You can simply search for the language pair and then you will get the right interpreter and this can be done within a couple of minutes. The only disadvantage is that the interpreter will not have proper knowledge about the situation – which might affect the quality of translation.
It's also known as "indirect interpretation". It is commonly used when there are many rare languages at an event or a conference; so one interpreter will translate into one common language like English, and then other interpreters will transfer the message to the other rare languages.
Escort/Travel Interpreting:
Interpreters here might be considered as assistants, as they travel with businessmen on their trips, meetings and conferences. They not only interpret, but they also try to help them cope with foreign cultures.
A sworn interpreter is certified by the Ministry of Foreign Affairs and he/she needs to pass a couple of translation tests to be certified as a sworn interpreter. Then he should swear and sign any translated document. it's mainly used in courts or notarial acts. 
4) What is a certified interpreter?
A certified interpreter is an interpreter who has passed accredited and reliable exams by an independent entity and he mainly works at courts. The accreditation in South Africa is done by the South African Translators' Institute (SATI) and it's carried out once or twice a year.
5) When is the equipment required for interpretation ?
Not all types of interpretation require equipment. interpretation, for example, does not. However, reply or simultaneous interpretation require equipment like headsets, booths, and microphones. Most interpretation companies rent equipment from other companies, so you just need to make sure that this equipment is in good condition and to test them before the conference or the event so as to avoid any technical issues.
6) How can I determine the interpreting quote?
Quotation for the translating and interpreting service is completely different. Translation is charged per word which is impossible to figure in interpretation. Quotation of interpretation is based on other aspects like:
Language pairs.
Nature of the event.
The type of interpretation.
The length of the meeting/conference
Specialization and experience.
7) How can I make sure about the confidentiality of my conference/meeting?
You need to make sure that your service provider will sign a confidentiality agreement with you. This will guarantee that all information will not be shared outside the conference/meeting with a friend, relative or even with other employees inside the same company.
8) Why do we sometimes need two interpreters?
Studies have shown that significant errors might happen after 30 to 40 minutes of continuous interpretation. Therefore, in order to not compromise the quality of the interpretation, you should make sure that there is a substitute interpreter, so each one will translate for 30 to 40 minutes maximum. 
9) What kind of information should I provide before the conference/ meeting?
Preparing the interpreter before the meeting or the conference will affect the quality of interpretation. So, if you have a conference, you can provide interpreters with the presentations that will improve their fluency. Also if you have a court case, reading the case notes will make them understand the nature of the case.
10) What will happen if I have to cancel the booking of the interpreter?
If you would like to cancel a booking for an interpreter, you need to report this a long time before, so that the interpreter can find an alternative assignment. Some companies may charge you a fee and it will be based on the timeframe before cancelling the booking.
AfroLingo is willing to accept any customer request and meet all the interpreting needs. We are one of the companies that are known for providing interpretation in over 100 languages. We believe that interpretation requires a high level of accuracy and professionalism, and we are your solution to achieve that. No matter how complicated your request, we will make it happen. We are distinguished by the following: 
24/7 support.
Competitive prices.
Providing all types of interpretation.
So, if you are planning for a conference, event or a meeting soon and you will have foreign language speakers, it's never too late to start planning. You can request a free quote by contacting us today.
Read Blog Detail