South Africa has become a hub for startups thanks to its appealing business climate and attractive conditions for new companies. Due to the what South Africa offers to the rest of the African continent, it has recently become a popular choice of investment destination, and its emerging market economy paired with its first-world economic infrastructure makes it especially attractive to business owners. So, why is South Africa such a great choice for a start-up business?

A Great Choice
There are a number of factors that allow startups to thrive in South Africa. They include:
· Economic policies which promote growth, employment, and domestic competitiveness
· A favorable legal and business environment
· A world-class infrastructure
· A gateway to the African market
· Global strategic alliances and trade reform
· Affordable cost of business
· Ease of carrying out business
· Cutting edge technology
· High industrial capability
· Competitiveness

Over the last five years, the number of start-ups has increased exponentially, year on year. Some of the strongest areas of growth have been in the tech industries. Information technology companies, Fintech and data analysis have all featured prominently over the last couple of years.

Government Initiatives For Start-Ups
The government in South Africa has devised a number of entrepreneurial support programmes. These include:
· The SPII program for commercialization of innovative projects
· Thrip grants aimed at entrepreneurs working with colleges and universities to perform research
· The IDC which supplies financial for projects in industrial development
· The Innovation Hub which fosters socio-economic competitiveness and development within the region
· FutureMakers – a supplier and enterprise development programme
· SEDA which offers business support to micro-enterprises and small businesses
· TIA which nurtures and develops technological innovation in order to boost South African economic growth
· BBSDP cost-sharing grant which is offered small businesses owned by black business people
Top 5 South African Start-Ups

· Aerobotics – a mobile app which utilizes drone and satellite mapping to monitor crops and warn farmers of potential risks
· DataProphet – An AI start-up which lowers manufacturing risk through the analysis of data and machine learning to eliminate and identify defects.
· LifeCheq – this start-up provides non-biased and legitimate financial advice and gives users access to experts and actuaries.
· LifeQ – this technology and science company helps people from every walk of life to have better health through tailored health solutions.
· Thursdays – this start-up focuses on lingerie and swimwear for women with larger cup size.

Top Tips For Starting Your South African Business
If you're ready to launch a South African start-up, here are some top tips:
· Begin with an idea that is a viable business. Ensure there is a need and demand for your product or service.
· If you're working with a partner, get your agreement in writing.
· Choose a good name for your business, check that it's available and then register it legally.
· Plan your initial sales forecast.
· Draw up an initial budget for expenses.
· Estimate your start-up costs.
· Plan a marketing strategy and how you are going to implement it.
· Develop the feel and look of your business.
· Build a website. Make sure that you have used a skilled website translation service to ensure that you can reach your target audience most effectively.
· Get the right insurance policy for you and your business.
· Obtain the necessary funding you need to get your idea off the ground.
· Hire the perfect team to work alongside you in your enterprise.

Although launching any new business is never going to be easy, the climate in South Africa today is ideal to give your enterprise the best possible chance of success. With such a strong focus on eCommerce and online access these days, it's imperative to get your web content right. If you need some help with this element of your new start-up, contact us today to find out more about how we can help you to launch your successful business in South Africa.

Read Blog Detail
The transcription industry is a very important one for businesses of all kinds, providing a convenient and efficient way to take records and convert them into translated documents for distribution purposes. So, why are transcription services so important? And which industries can benefit most from the services of a transcription company in South Africa?
Why Transcription Services in South Africa Are Important?
Our cutting-edge transcription services take records in countless languages from across the entire African content, translate them and then convert them into an easily distributable document that everyone can understand. Transcription services in Johannesburg or Cape Town – as being the business hub cities in South Africa- offer transcription from and to both commonly spoken languages like Swahili and Afrikaans to niche local dialects with far fewer native speakers. The aim of transcription services is to make documents of all kinds comprehensible to readers not only all over the African continent but also all around the world.
Uses For Transcription Services in South Africa
There are numerous uses for a transcription company in South Africa, however, two of the most common uses are transcriptions of research, important documents, and interviews.
When somebody is being interviewed, their words may be important in a number of languages. A team of skilled transcription specialists will listen to the interview material, translate it and transcribe it flawlessly so even the tiniest nuances are captured perfectly.
Documents and research are often required for important applications. In such cases, a translation must be perfectly transcribed in order to obtain the necessary data for the application. When a team of skilled specialists works on the job, they can take even complex scientific and technical terms, translating and transcribing them in order to ensure that nothing is overlooked, no mistakes are made and that the data can be correctly understood.
Who Needs Transcription Services?
Although many industries benefit from the best transcription services Johannesburg can provide, there are some sectors that are most likely to require help from transcription companies in South Africa. These include:
· The legal sector
Law firms, attorneys, court reporters, paralegals and a range of other professionals working in the legal industry can benefit from transcription services. Court hearings, depositions, video and audio evidence, witness statements and legal documentation are frequently transcribed so they can be accessible to judges, juries and lawyers.
· The healthcare sector
Patient information will always be required in patient files and therefore transcribing notes, procedures and other related materials are vital.
· Academic purposes
Academicians and students alike benefit from transcription services. Class lectures, educational videos, research papers, source materials, interviews, and seminars can all be transcribed for distribution both online and offline.
· Market research
Recording accumulated market research materials like focus groups and interviews are vital for businesses. By transcribing these into different languages, it is possible to review the information provided to maximize the usefulness of the data.
· Business sector
Businesses of many kinds, and especially those with international operations can benefit from transcription for storing and cataloging information. Accurate recordings can be obtained from phone calls, meetings, and interviews for archiving purposes.
· Content strategists/marketers
People who work in content marketing and content strategy benefit from the use of transcription services to repurpose content for international websites to maximize impact and increase the target audience for a business.
Using AfroLingo's Transcription Services South Africa
AfroLingo has an impressive team of highly skilled translation and transcription experts on board who have a fluent and comprehensive understanding of a full breadth of African languages.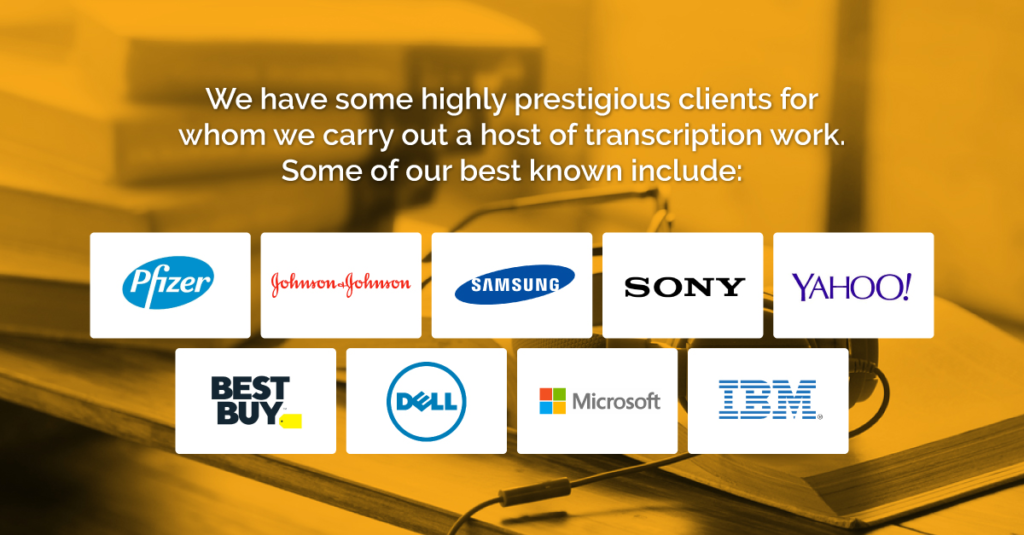 Thanks to our rapid turnarounds, our exceptional attention to detail and our excellent customer service, we have countless satisfied clients who have taken advantage of our excellent transcription services. Whether transcribing market research interviews, recordings of conversations and calls or repurposing video and audio content, AfroLingo is leading the way in the South African transcription services field.
Read Blog Detail
AfroLingo has been working in the translation industry for more than 10 years and it proved that it's capable of speaking everyone's language smoothly. It never disappoints its clients and always keen on providing high-level quality. Clients are always working alongside AfroLingo with confidence that this company meets industry standards and has qualified and experienced staff.
Africa is considered one of the most growing regions in the world, according to the World Bank the growth rate in 2018 reached 3.1% and it will reach 3.6% in 2019–2020. Political transitions and economic reforms have paved the way for multinational companies to start their business in South Africa.
According to Stats SA, South Africa's economy has grown by 0,8% in 2018. This is up from 0,4% in 2016. Thanks to industries like finance, real estate, and business services, the South African economy has grown in this year and attracted many investors to start and open business in South Africa. This gives AfroLingo a golden opportunity to expand its market share and start building partnerships with these companies which are looking for a trusted professional translation company in South Africa to handle their translation needs.
2018 in Brief
2018 is considered a fruitful year for AfroLingo as it was succeeded to overachieve many milestones that were pre-planned for this year. So here is a glimpse about what was achieved.
From 2017, AfroLingo witnessed a great improvement in its growth rate with an increase of 56%. So AfroLingo starts 2018 with a focus on maintaining this growth and expands its business with new and existing clients and it kept the growth rate with 52%. Thanks to its hard-working team of sales, marketing and account and project managers who were dedicated to achieving such numbers. Moreover, we can't forget the major cornerstone in this success which is their in-house team of translators and linguists who maintain their high-quality standards of translation.
As part of our expansion, we managed to open a new office in Nairobi, Kenya on 25th June 2018. This step gives AfroLingo a marvelous advantage to reach a new market and work with more clients. Also, this was considered as a challenge to start in a new fresh market with tens of translation companies that are based in Kenya for a long time. But thanks to AfroLing's good reputation and experience, this was not an easy mission but we managed to make it possible.
On April 25th, 2018 AfroLingo affirms that it meets the internationally recognized standard within the translation industry. AfroLingo successfully passed surveillance audits for ISO 17100 Certificate and had officially confirmed itself as an international company that adheres to certain quality steps to make sure that its services are the best.
During this year, AfroLingo has proven its expertise in handling big projects for multiple international and local clients. Those clients believed in AfroLingo and its team and they invested their money and time and they proved that they are trustworthy and reliable.
Niki Louw from Mobistar said: "We've been very impressed with the quality of their work. Their turn around times are quick, their communication is great and they always adhere to any timelines discussed".
What 2019 will be?
A new chapter with new challenges will start in 2019 for AfroLingo. AfroLingo is willing to work to achieve these challenges and we are looking for to double achieve what we are planning.
Our ambitions are unlimited for this year and here are quick glance about this year
We will work on a partnership with other local organizations that support the South African communities in education, health and women empowerment.
Publish our latest news and participate in events organized by translation associations like Gala, Slator, and Multilingual Magazine.
Improve our media presence in South Africa and Kenya, make sure to attend top events and network with top managerial positions.
Expand our clients' base in South Africa, Kenya and worldwide.
Ahmed Hamdy, business development manager in AfroLingo said: "AfroLingo is really delighted about what we have done last year and we are planning to achieve more. Our goal is not only to serve clients in South Africa and Kenya only but in the whole world. The African continent is considered a virgin market and a golden opportunity for many businesses to increase their market share".
AfroLingo is a South African company that is specialized in providing translation and localization services in South Africa and Kenya. Founded in 2008 and opened its second office in Kenya in 2018. AfroLingo is ISO 17100 certified translation & localization service provider of translation, desktop publishing, interpretation, and transcription. AfroLingo works with thousands of direct local and international clients and over 100 MLV (multi-language vendors).
Contact info:
Name: Ahmed Hamdy
Address: Ground Floor, Liesbeek House, River Park, River Lane, Mowbray 7700 Cape Town, South Africa.
Phone: (+27) 213002355
Read Blog Detail